Lend a helping hand to homeowners in need.
Rebuilding Together Minnesota is thankful for the many volunteers who make our mission possible by donating their time and skills to help homeowners in need. We have volunteer opportunities for large or small groups and individuals, depending on your skills and time commitment.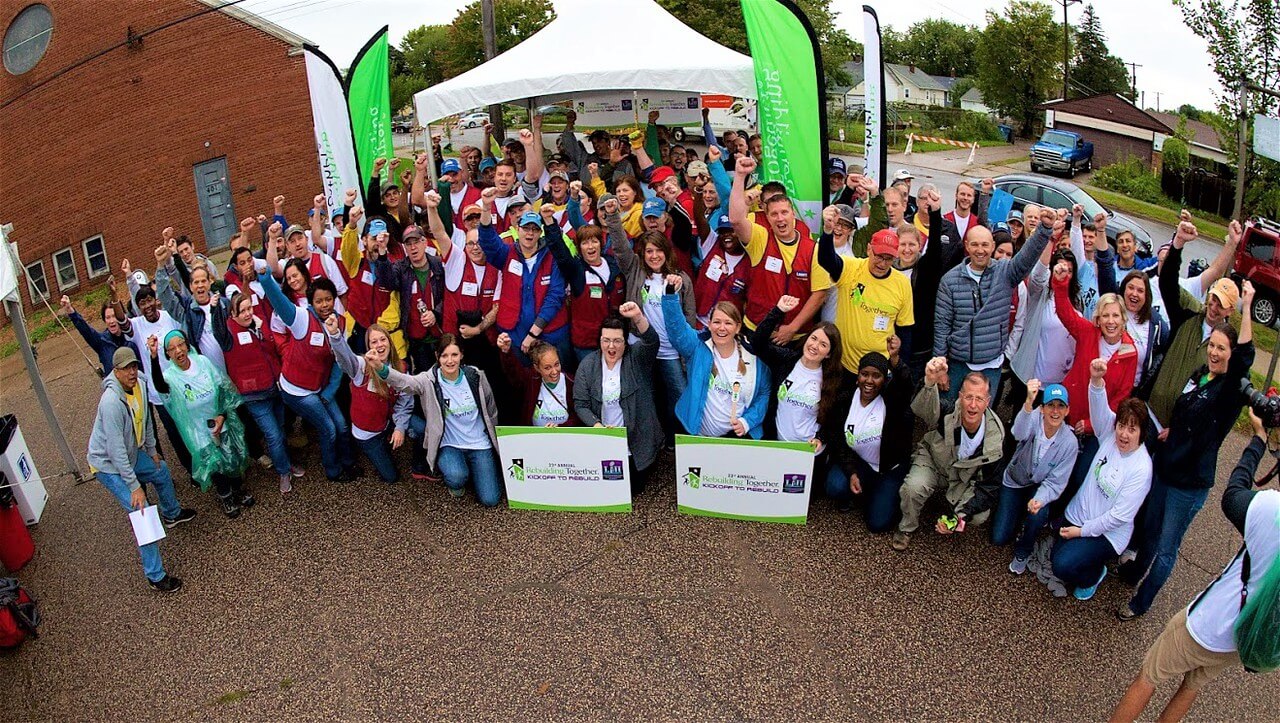 To schedule a volunteer date for groups or individuals, please contact our Volunteer Coordinator at (651) 776-4273 or by email at volunteerservices@rtmn.org.
More information about current volunteer opportunities is available below:
The Safe at Home program provides minor home safety or accessibility modifications to the homes of low-income older adults or individuals with disabilities. Volunteer projects are small-scale and can be completed by two to four volunteers in one day. Handy-person and light carpentry skills are preferred, but many tasks can be learned through training and experience with on-site installation. If you are interested in volunteering for the Safe at Home program, please contact us at volunteerservices@rtmn.org or 651-776-4273.
We recruit volunteers to assist with repairs for homeowners. Volunteer crews work to repair the interior and/or exterior of the homes of families in need. Homes can include those of low-income older adults, veterans, families with children, and people with disabilities. 
Volunteer crews are led by the group's project leader who organizes volunteers. These project leaders serve as the points of contact between Rebuilding Together Minnesota staff and the volunteer crew. The job has its demands, but the rewards are great.
Volunteers can also help with community outreach, event organization, mailings, data entry, graphic design, event planning, and other projects depending on their skills, interests, and availability. We value the time, energy and experience that individuals bring to our organization and appreciate their desire to serve the community. Please email us at volunteerservices@rtmn.org to discuss all the ways you can get involved.
See below for our general volunteer interest form. 
General Volunteer Interest Form
We respect your privacy! Should you have questions about how your information is stored and used, please refer to our Privacy Policy.